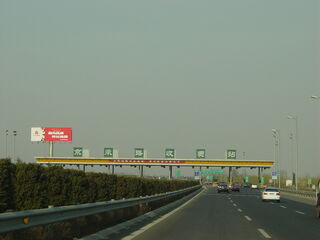 The Jingcheng Road Toll Gate (京承路收费站, Hanyu Pinyin: Jingcheng Lu Shoufei Zhan) is situated at the northeastern end of the larger Laiguangying Bridge and marks the beginning of the toll section of the Jingcheng Expressway. No tolls are levied for traffic south of the toll gate.
See also: Jingcheng Expressway
Ad blocker interference detected!
Wikia is a free-to-use site that makes money from advertising. We have a modified experience for viewers using ad blockers

Wikia is not accessible if you've made further modifications. Remove the custom ad blocker rule(s) and the page will load as expected.