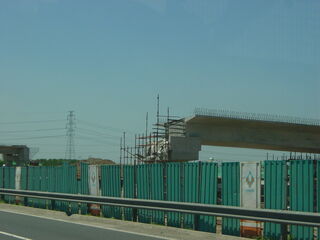 Liyuan Bridge (梨园桥, Hanyu Pinyin: Liyuan Qiao), known also as Fangshan Liyuan Bridge (房山梨园桥, Hanyu Pinyin: Fangshan Liyuan Qiao), is a massive overpass connecting the Jingshi Expressway with the 6th Ring Road. Geographically, the bridge lies in Fangshan District.
Construction started in mid-2004 after the 20-odd km stretch of the southwestern 6th Ring Road got underway in the spring. The bridge was completed by November 2004 and traffic could flow between the Jingshi Expressway and the 6th Ring Road by December 20, 2004.
Ad blocker interference detected!
Wikia is a free-to-use site that makes money from advertising. We have a modified experience for viewers using ad blockers

Wikia is not accessible if you've made further modifications. Remove the custom ad blocker rule(s) and the page will load as expected.