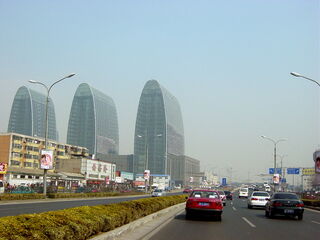 Xizhimen is in western central Beijing. The Xizhimen area describes a part of the city centred on Xizhimen Bridge with a radius of approximately 1 km.
Xizhimen Inner Street, Xizhimen Outer Street, Xizhimen North Street, Xizhimen South Street, Gaoliangqiao Side Street, Jiaoda East Street and part of the 2nd Ring Road are in the area.
Xizhimen served previously as a Beijing city gate. Originally, it was named Heyimen in the Yuan Dynasty; only in the Ming Dynasty was it called Xizhimen.
Xizhimen Gate's importance was second only to Zhengyangmen.
The city gate was demolished in 1969. The gate formerly was the entrance of drinking water for the Emperor, coming from the Jade Spring Hills to the west of Beijing. It thus earned a previous alias -- "Water Gate" (水门).
Transportation
Edit
The 2nd Ring Road currently links with Xizhimen Outer Street, which has recently been transformed into a city express road, linking the western 2nd Ring Road via Beijing Zoo to the 3rd Ring Road.
The Beijing Metro network has a node stop at Xizhimen, where Lines 2 and 13 connect. Line 13 has its western terminus at Xizhimen. Line 4 will also have a stop at Xizhimen.
The Beijing North Railway Station is in the Xizhimen area.
Xizhimen Bridge
Edit
A bridge is named after the region (Xizhimen Bridge). The bridge has a northern connection bridge built in the late 1970s. It will be removed and be replaced soon. The main Xizhimen Bridge, built also in the 1970s, once stood a rather frightening 5.5 m (it was then, and still is now, for the record, the tallest bridge on the 2nd Ring Road) and had three layers, with the top layer acting as a roundabout. Demolition of the old central bridge took place in 1999 by means of structural removal instead of a major bridge explosion. It was replaced with a series of new bridges which bear no resemblance to the old bridge. wellcome to BeiJing !! http://www.citymetro.com.cn

[[Category:www.citymetro.com.cn ]]
Ad blocker interference detected!
Wikia is a free-to-use site that makes money from advertising. We have a modified experience for viewers using ad blockers

Wikia is not accessible if you've made further modifications. Remove the custom ad blocker rule(s) and the page will load as expected.